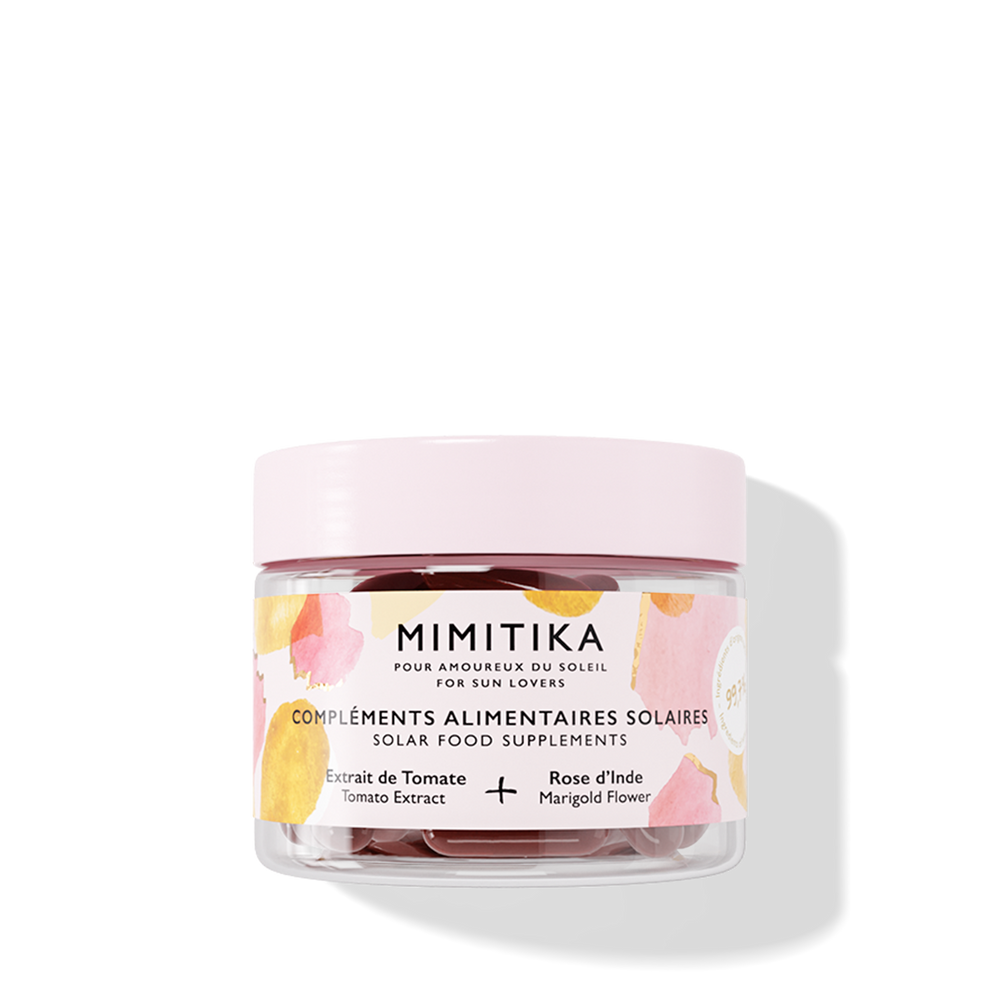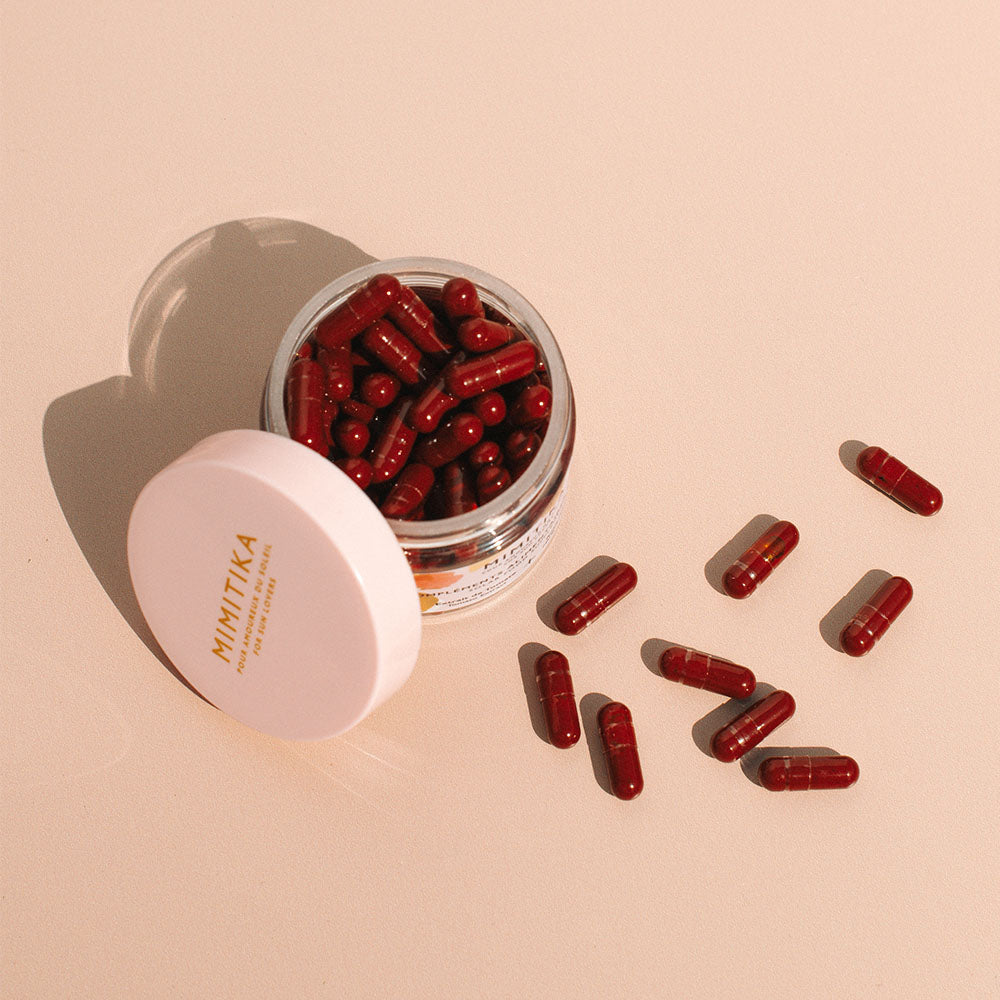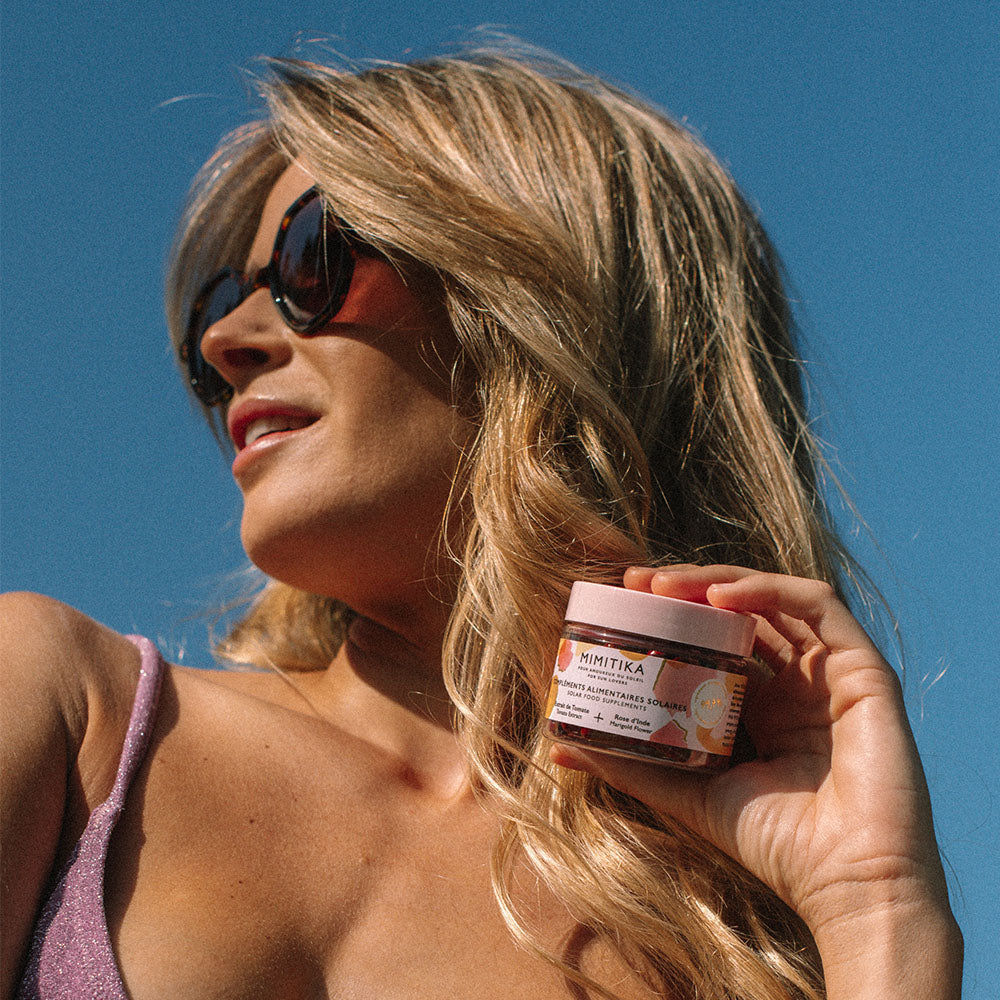 Compléments Alimentaires Solaires
25 grammes
A shot of natural encapsulated ingredients to prepare the skin for sun exposure
MIMITIKA solar food supplements help the skin prepare for sun exposure and protect it from its harmful effects. With 99.7% natural ingredients, their formula, composed of an effective duo of carotenoids, borage oil, vitamin A, and E, promotes a radiant and long-lasting tan.
A new approach to sun preparatory supplements: a clear and understandable composition, highly concentrated in natural active ingredients. No unnecessary or controversial ingredients, just what is needed to help the skin prepare and protect itself from the sun.
Result: a radiant and long-lasting tan.
One jar = 60 capsules, 2 capsules per day (1-month supply).
A formula composed of 99.7% natural ingredients that works on all aspects of the skin before sun exposure, allowing you to: - Prepare the skin for sun exposure by protecting it from its harmful effects. - Promote a tan without the risks associated with prolonged sun exposure. - Ensure the skin's suppleness and radiance.
Tomato Extract: Tomato is the food richest in lycopene, a carotenoid responsible for its red color and an antioxidant particularly effective in preparing the skin for tanning and combating the harmful effects of the sun.

Indian Rose Extract: Also known as Tagetes, it is a flower native to South America concentrated in lutein, an antioxidant carotenoid that nourishes and protects tissues from the harmful effects of free radicals, especially those generated by ultraviolet radiation from the sun.

Borage Oil: A precious plant-based source rich in essential fatty acids. Its protective, reparative, and soothing properties make it a valuable ally for sensitive skin that is prone to dryness caused by prolonged sun exposure.

Made in France & Vegan.
99.7% of natural origin ingredients.
Free from beta-carotene, gelatin, gluten, lactose, colorants, and preservatives.
Mimitika's Solar Food Supplements act on 3 essential aspects to ensure healthy skin and optimal tanning. Therefore, they are suitable for various skin types: - Fair skin: Lutein (contained in the Indian Rose extract) and Borage Oil effectively prepare fair skin against sunburn, burns, and summer light eruption. - Sensitive and atopic skin: Our natural ingredients are non-allergenic and protect sensitive and photosensitive skin from sun reactions (photodermatosis, sun allergies, etc.). Our formula is gluten-free, lactose-free, preservative-free, gelatin-free, beta-carotene-free, and more. - Darker skin tones: With its high content of Lycopene (contained in the tomato extract), the Solar Food Supplements act as a real tanning booster for a darker tan that perfectly matches each person's natural complexion. Moreover, the sun is the primary cause of skin aging. Thanks to its protective active ingredients and high content of antioxidant Vitamins A and E, Sun Supplements fight against signs of skin aging and preserve its elasticity.
Directions for use: Take 2 capsules per day, ideally with a meal. For maximum effectiveness, start the course 15 days before sun exposure, continue during and after exposure to prolong the effect. Please note that these food supplements do not replace proper sun protection."
Borage Virgin Oil (Borago Officinalis), Vegetable Capsule: Hydroxypropyl Methylcellulose, Indian Rose Extract (Tagetes Erecta), Tomato Extract (Lycopersicon Esculentum), Candellila Wax (Euphorbia Cerifera), D-Alpha Tocopherol (Natural Vitamin E), Retinyl Palmitate (Vitamin A).